Effectiveness of Decision Support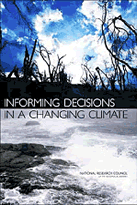 I have synthesized my expertise and experience on effective science-practitioner interactions, decision support processes, and successful stakeholder engagement in several recent publications. I assisted the Pacific Regional Integrated Sciences and Assessment (RISA) center with a synthesis of what is known about stakeholder engagement and decision support, and how the effectiveness of such processes might be evaluated "on the ground."
As a member of the National Research Council Panel on Strategies and Methods for Climate-Related Decision Support, I contributed substantially to the resulting foundational report in 2009.
I was also a co-author on a report for the US Climate Change Science Program to improve the usefulness of carbon science for decision-making.
NOAA's Regional Integrated Science and Assessment Program (RISA) is one of the best examples scientists interacting with practitioners to develop the scientific information and tools that would most usefully inform decision-making. A long-term observer of that program, I am currently working with the Pacific RISA Center to evaluate that program's efforts in effective decision support. Work is ongoing, so please check back for project outputs.
For related publications, click here.
For related work, see: